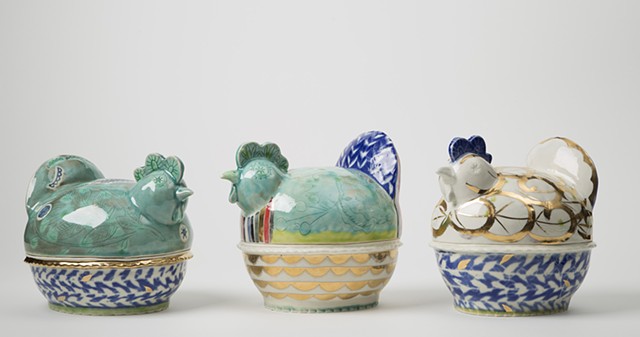 My love of the earth and all its bounty becomes decoration on the surfaces of my pots. I hope my work reminds people to take a closer look at their surroundings and to appreciate the beauty served up by the earth as it makes its unending diurnal rounds.
During The Flower City Pottery Sale 2016, which takes place annually in Rochester, NY over Columbus Day weekend, I was interviewed by Ben Carter the man behind the Tales of The Red Clay Rambler. There is no doubt, Ben is a gifted interviewer. I just finished listening to my podcast, which was recently posted, and I feel as if the conversation truly captures what is important to me as a teacher and an artist. If you are interested, here is the link!
http://talesofaredclayrambler.libsyn.com/168-liz-quackenbush-on-maturing-as-an-educator-and-an-artist




Up Coming Workshop-Keep an eye out!
August 2020 Snowfarm: The New England Craft Program, Williamsburg, MA
https://www.snowfarm.org/workshops/class-listings/2019-craft-workshop-preview-snow-farm
UPCOMING EXHIBITIONS-
St Croix Pottery Tour, Shafer, MN- Mothers Day weekend 2020
I will be showing at the studio of Ani Kasten
° SOLO SHOW- August 14-Sept 16, Big Town Gallery, Rochester, Vermont
2019 Exhibitions
° CELEBRATING CLAY, Chester Springs Studio, Chester Springs, PA
°CLAY CURRENTS: The Wichita National Ceramics Invitational, Urlich Museum of Art, Wichita State University, Wichita, KS
°2020 WOMEN WORKING WITH CLAY:Ten Years of Telling the Story, Eleanor D. Wilson Museum, Hollins University, Hollins, VA and during NCECA The Valentine Museum, Richmond, VA
°BOOKENDS, NECEA exhibition, University of MN Library, Minneapolis, MN
2020
°TEA AND COOKIES: 17TH Biennial Teapot Exhibition, Delmar Loop Gallery, Art Alliance, St. Louis, MO